This post may contain affiliate links. If you buy thru these links, we may earn a commission at no additional cost to you.
---
Have you put it on your calendar yet? America Recycles Day is right around the corner.
As we approach this eco holiday, how about some interesting info on a couple recycling dilemmas and some unique ways to address them?
Everyone (or nearly everyone) supports recycling and using recycled products — such as recycled paper — these days.
But let's take a look at a couple of problems facing the recycled paper industry as it works right now.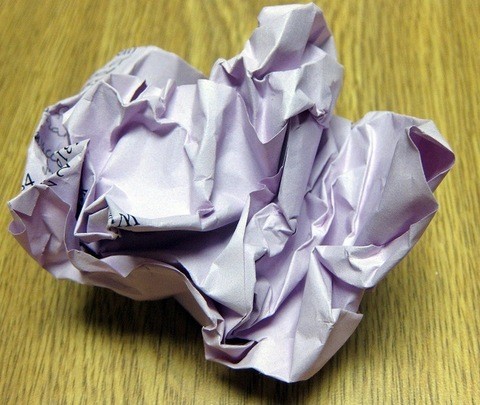 Two Recycling Problems:
There's no universal standard for "Post Consumer Waste." As a result, Europe counts store-returned magazines while the U.S. does not — so paper with largely identical content appears vastly different. Where this causes a problem is consumers and businesses, totally unaware of this, choose the product they think is best for their needs and the environment, but can end up buying paper that needs to be shipped from across the ocean.
Recycled paper manufacturing — as most practice it these days — is highly inefficient, based on old systems and machinery, and thus has an unnecessary environmental impact that takes away a bit from its environmental benefit.
For example, before recycled paper existed, it made sense to locate your factory near the raw material — trees — far from urban centers.
Now, however, the majority of material bound for recycling is collected in urban centers… and then sent back out to these legacy paper mills before it's made into clean, blank sheets of paper and sent back to those urban centers again. (You thought your commute was bad.)
Furthermore, when it arrives at those mills, the process of making paper at these facilities is much more laborious than it could be, with the recycled material needing to be hand-fed into the mix, at times gumming up the machinery, which wasn't built to accept recycled material. Understandably, old style paper mills often see this as inefficient and a bother.
But have no fear! A solution is here.
FutureMark Paper's Green Recycling Efforts
FutureMark Paper is a paper company built around the needs of today.
Its factory was built just 13 miles from downtown Chicago, a magazine-printing hub in the United States.
And focusing completely on green, recycled paper, its raw material is right there as well — the urban forest. It is able to get most of its material locally.
Additionally, the company has state-of-the-art equipment that is perfectly suited for up to 100% recycled content.
Of course, we as consumers have a choice every time we buy a product, and based on the decisions we make, some companies fail and some succeed. FutureMark's innovation in this field seems to be serving it well — it recently hit 1.5 billion pounds of recycled paper.
But with America Recycles Day approaching, it seems like the perfect time to ask, is your recycled paper as green as this recycled paper?
What type of recycling system do you use?
photo: katerha