Looking for some spooky Halloween decorations? Make your own Halloween LED lights!
Simple Ways To Go Green
I've finally started using an automatic car wash… While I love the weekend morning ritual of plopping bucket-fulls of sudsy, soapy water on my car and scrubbing the week's grime away, I've learned that taking my car to a commercial car wash is much more eco-friendly. Using an automatic car wash is a green way to keep […]
Making a home office eco-friendly is a topic we're hearing more often than ever these days. It might have something to do with the growing trend toward people working at home. According to a recent study, 37% of U.S. workers reported they have telecommuted or worked at home. I also work from home on a full-time basis as […]
DIY Ideas
Everyone wants Mardi Gras beads. Even those who don't live in New Orleans. I don't reside in "The Big Easy," but I do live in "The Big Guava," a.k.a. Tampa, Florida. We don't have the Mardi Gras parade, but we do host an annual pirate festival called Gasparilla — which celebrates the arrival of a mythical pirate named Jose Gaspar […]
Want free materials for DIY recycling projects, arts & crafts, gardening, landscaping projects, etc? You'd be surprised how many DIY crafting and recycling items you can get for free — but you've got to know where to look for them. Believe it or not, even in this day and age where it seems that it may cost […]
Green Travel & Transportation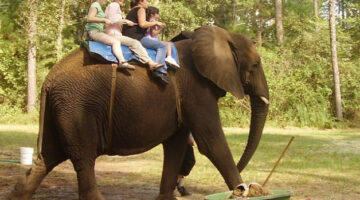 Recently, I wrote about ecotourism and how it can help fund environmental efforts. Now I want to talk about wildlife conservation tourism – yet another exciting concept designed to support ecology and conservation as a whole. Wildlife tourism is one of the most popular methods now for funding environmental conservation while also instilling among tourists a sense […]
It seems like we're all going green nowadays – even where we're going has gone green! Ecotourism has become one of the newest ways we show our love to the planet while we're on vacation. What exactly is ecotourism? According to The International Ecotourism Society (TIES), ecotourism is described as "responsible travel to natural areas […]
Green News
The market for green jobs is flourishing these days. More and more people are turning down the white-collar corner office for a green-collar job that helps the nation adapt to the growing move ever closer to sustainability. From agriculture to the energy industry to the sciences, green jobs are becoming more and more commonplace.
Have you been wanting to try your hand at growing a living Christmas tree? It's more environmentally friendly than using a fresh-cut or artificial Christmas tree — and it's fun! What's more, if I can grow a live Christmas tree, you can do it, too. You see, I live in Central Florida, where only a […]
Green Products
I'm hearing a lot about green furniture these days, but I really didn't think much about it until I set out to buy a new couch for my home. While I'm a pretty eco-friendly guy, I never realized just how many green furniture options there are for people such as myself, who have a typical income […]
This night light has been on my radar for quite awhile now. I bought 5 of them! I've been using them for months in my kitchen and powder room — and every time someone visits our home, they comment on how nice the lights look (especially at night when the room is very dark). One thing I didn't […]