This post may contain affiliate links. If you buy thru these links, we may earn a commission at no additional cost to you.
---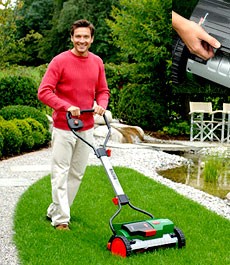 Want to green that lawn care but these cons outweigh the pros of both electric rotary push mowers and reel mowers?
Ivy at Shakyard and one reader named Indie both feel this way. In fact, Indie brought up a great question about it on a recent post about reel mowers.
She says,
"We bought a reel mower recently and it won't cut some of the weeds. Since our "lawn" is almost entirely weeds, this is a problem. Any ideas? We plan to reseed the lawn, probably in the Fall, but in the meantime our lawn looks cruddy."
Have you ever heard that complaint or, even worse, found yourself in the same boat?
An electric reel mower may be the answer to your green lawn care prayers.
What everyone considering a reel mower should know, is that many reel mowers are not rated to cut tall weeds or thicker varieties of common grasses — like Zoysia, St. Augustine, and Bermuda.
Where regular reel mowers fail is where the electric reel mower powers through.
No, literally.
It seems to me that there are only 2 real options when it comes to buying an electric reel mower, the Sunlawn 2007 EM-2 and the 2008 Brill Accu 38.
2008 Brill Razorcut Accu 38
The Brill (pictured above) seems like it'd be the way to go.
Here are the specs:
24V cordless electric motor
multipurpose 24-volt NiCad PowerAccu battery
mows up to 2,500 sq. ft. on a full charge (30 minutes), battery gives approximately 500 charging cycles.
weighs 29 pounds (no need for self-propulsion with the light weight of this cordless electric lawn mower, as it is lighter than even most unpowered reel mower!)
flame hardened non-contact blade system outlasts any other reel push mower and rarely needs sharpening
sealed, maintenance free ball bearings
cordless electric mower operates as standard manual push mower as well
Did you catch that last one? Yeah, if your battery dies the mower is the only electric reel mower that can be used equally well as a regular push mower once the battery juice is used up.
David Temple from PeoplePoweredMachines told me via email that it is not suggested for bermuda grass (but Zoysia and St. Augustine should be fine when used as a POWERED reel mower).
You can purchase the Brill Razorcut Accu 38 from PeoplePoweredMachines (with free shipping). That price does not include the grass catcher.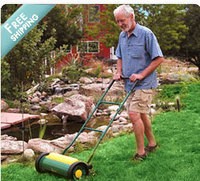 2007 Sunlawn EM-2
Even though the Brill Razorcut Accu 38 seems to be a smidge better of a choice, it doesn't appear to be by much.
The EM-2's specs look like:
Weight 35.2 pounds
Cutting width 16 inches
Cutting height .4 – 2.25 inches, easily adjustable
Contact-free blade design for exceptional ease of pushing
Precision ground, flame hardened, bearing mounted blades
Expected reel mower blade life without sharpening 7 to 10 years

Utilizes 2 commonly available 12V 7Ah SLA batteries — which can be purchased at Radio Shack (approximately 300 charges and will power the mower for 75 minutes each)
6 hours to full recharge
Wired Magazine reviewed the EM-2 against 3 other electric push mowers last summer and found it to be the best of all 4. Even though it officially cuts up to 2.25" high, their review said it plowed down 4"!
It's also really important to note that the Sunlawn EM-2 is the ONLY electric reel mower I've found that is rated to cut the hardy (and annoying) Bermuda grass.
You can also buy the Sunlawn EM-2 from PeoplePowered Machines (with free shipping) and includes 2 batteries and the grass catcher!
So Which One Is The Best Electric Reel Mower?
The Sunlawn EM-2 has 7 blades, the Brill Razorcut Accu has 5.
The EM-2 can only be used as a powered reel mower, the Razorcut Accu can be used as either powered or manual.
The EM-2 currently comes with 2 batteries and a grass catcher for $379, the Razorcut Accu comes with 1 battery and no grass catcher for $429.
The EM-2 is alleged to have a choking problem — although it is probably being caused by walking too fast, mowing grass that's too tall, or mowing at too low of a height–nevertheless, here is the video:
If you've tried a reel mower without much success, would you consider trying an electric powered reel mower? If you were considering a reel mower for the first time, would you spend a little extra to have the comfort of the extra power from the electric motor?
I think every little step toward living green is an awesome one… but eco-snobbery sucks! My goal is to help newbies learn the most important steps toward living green — individually and collectively. Personally, I strive to have as little impact as possible on Planet Earth while I'm here.