This post may contain affiliate links. If you buy thru these links, we may earn a commission at no additional cost to you.
---
So you're throwing a party or hunting for last second Halloween decorations and you realize that your venue looks a little drab.
What do you do?
Grab an old string of Christmas lights and a package of ping-pong balls and make some incredibly awesome diffused party lights!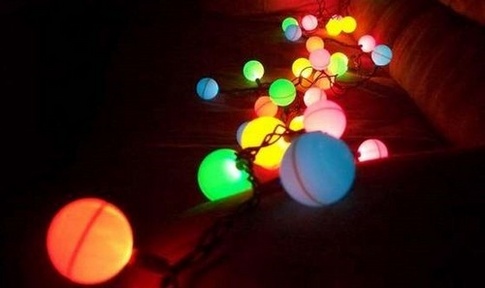 It's no secret that we have a serious obsession with simple and creative lighting ideas.
Some of the best lighting ideas we've ever talked about are:
Of course we've talked about lots of other DIY lighting ideas, but those are just some of our favorites.
One more thing is also for sure: that this DIY diffused party light Instructable that came to us via LifeHacker is soon to appear on that list!
DIY Diffused Party Lights
What you'll need for this project:
A string of Christmas lights
A ping-pong ball for each light on the string
Drill and drill bit
Hot glue and glue gun
C-clamp, vice grip, adjustable wrench, bench vice, or some other device suitable for holding onto the ping-pong balls while drilling
Check out the actual Instructable for detailed tips and instructions, but it's really as simple as drilling a hole in the ping-pong balls and then hot gluing them onto the individual lights.
It's obviously great to reuse some old Christmas lights you have lying around for this project, but if you want to make it even greener and more energy efficient, snag some LED Christmas lights instead.
Using LED Christmas lights will also be safer since they give off almost no heat. I've got to wonder if regular old incandescent mini lights are going to give off enough heat to melt the ping-pong balls after a while.
How To Find Cheap LED Christmas Lights
If you purchase your LED Christmas lights from a box store or online retailer like HolidayLEDs.com or LEDChristmasLights.com, you're going to spend around $20 for a string of 50 mini lights.
Instead, you can consistently find twice the LED mini lights for half the price on eBay. As a matter of fact, I just saw a string of 100 multi-color LED mini lights for a Buy-It-Now price of $9.99 with free shipping. Just go to eBay and search for "LED Christmas Lights".
So there you go, a great energy efficient DIY project and a money saving tip all rolled into one… and just for you!
What's a fun DIY lighting tip that you've found?
I think every little step toward living green is an awesome one… but eco-snobbery sucks! My goal is to help newbies learn the most important steps toward living green — individually and collectively. Personally, I strive to have as little impact as possible on Planet Earth while I'm here.