This post may contain affiliate links. If you buy thru these links, we may earn a commission at no additional cost to you.
---
As someone who cares about the environment, I've been wondering what's better for Mother Nature: a real Christmas tree or an artificial Christmas tree.
The question seems almost as maddening as the old paper bag vs. plastic bag dilemma.
And 30 or 40 years ago, the answer may have seemed more obvious. If the answer involves cutting down trees, then it's probably the wrong answer, right?
Not so fast.
As some research shows, fake Christmas trees may not always be the better answer if you care about keeping Earth green.
Let me explain…
Deciding Between Fake vs. Real Christmas Trees
Fake Christmas trees are popular — really popular.
According to data from the American Christmas Tree Association, a group that advocates for manufacturers of artificial Christmas trees, around 80% of American households purchase fake Christmas trees.
Now, there's something to be said about fake trees.
Early on, I grew up with my grandmother's 1960s artificial tree. And by the time I came along, it was already in its second decade of bringing holiday cheer to the living room. (Gosh, I miss the vintage pastel-y flower petal lights we used to decorate that tree… Still can't find them in LED Christmas light versions yet!)
So, there's longevity on the side of fake Christmas trees.
There's also less mess. Fake trees don't drop needles, don't need to be watered, are relatively easy to set up at the start of the holiday season, and can be quickly stored away at the end of the holidays.
But, get this: fake Christmas trees are actually terrible for the environment.
Here are just some of the ways a fake Christmas tree fouls up Mother Nature:
Most artificial Christmas trees are shipped overseas from China — Americans buy about 10 million fake Christmas trees each year, and around 90% of them are shipped to the United States from China. That means a lot of large freight being conveyed across the Pacific Ocean and other waterways on big boats. And big boats require a lot of fuel, and a lot of fuel means a lot of carbon emissions being pumped into the atmosphere — just to get the trees to the consumers. There's also the carbon emitted in the production of the materials used to make the fake tree. When all is said and done, fake Christmas trees are responsible for a lot of CO2 emissions.
Artificial Christmas trees aren't recyclable — Fake Christmas trees are made from a lot of different materials, many of which are un-compostable and difficult to separate. This makes them terrible for the environment — because they really can't be recycled. So, guess where they generally end up at after their service life… Yep, the landfill. All of those fake Christmas trees end up in the landfill! Gah…
Fake Christmas trees contribute to the plastics problem — Artificial holiday trees contain a lot of plastic, and unfortunately the countless tiny plastic particles floating around the environment are leading to a toxic crisis. A fake Christmas tree sheds plastics during use, and it will release a lot more plastic still once it winds up in the landfill. The last thing we need in this world (and our waterways) are more plastics.
When it comes to real Christmas trees versus fake, I opt for real.
Here's why…
Why I Always Choose Real Christmas Trees
The first time my family bought a real Christmas tree was in 1989… I was 8 years old. We bought it for $19.99 at a local tree lot by our house. It was a Douglas fir — which is technically in the pine tree (not fir) family and doesn't emit as much of an aroma as other popular types of Christmas trees do.
But it was so nice having this real tree in the house during the holidays. It looked spunky. It was also neat to touch the real needles and boughs. (Remember, it was always fake trees for me before this.) And — yes — there was the fresh pine tree scent.
I decided at 8 years old that I would always buy real Christmas trees when I grew up.
And save for one year when I was in a pinch and bought a cheap 3-foot fake Christmas tree at Walmart in my 20s, I have upheld my childhood pledge to always buy real Christmas trees.
Turns out, real Christmas trees are better than fake Christmas trees for many reasons:
Buying real trees helps the tree farm industry.
A 5-foot to 6-foot Christmas tree takes around 7 years to grow — during which time it produces oxygen and absorbs carbon emissions.
According to the National Christmas Tree Association, which advocates for real Christmas tree farmers, an average of 1 to 3 seedlings are planted each spring for every Christmas tree harvested.
They can grow on the side of hills — meaning they can help prevent soil erosion and will grow on land that really can't be used for growing most other kinds of crops.
Real Christmas trees are biodegradable.
And don't forget… real Christmas trees smell terrific, can bring loved ones together when choosing a tree, and can even make awesome photo opportunities for social media!
Real Christmas trees are clearly the more sustainable option. And this is just one of many reasons why I love buying real Christmas trees.
In more recent years I've been visiting a Christmas tree farm near me, where my wife and I can go pick our own growing tree, cut it down, and take it home to dress up for the holidays.
What's It Like Visiting A Real Christmas Tree Farm?
I've got even more news for you…
Yes, they have real Christmas tree farms in Florida! I know because I live there and have visited the same Christmas tree farm for years.
It's fun to go through the tree farm each year and select just the right tree…
This Christmas tree farm in Florida has a wide variety of natural Christmas trees — including pine, Leyland cypress, and juniper.
Christmas tree farms in other parts of the country have Douglas fir, Fraser fir, Black Hills spruce, and many other types of trees.
Here's a list of places where you can find an eco-friendly Christmas tree near you! Plus some bonus tips to help you find, grow, and care for a living Christmas tree.
When my wife and I find just the right specimen at the cut-your-own Christmas tree farm, we break out the saw (that they let us borrow) and start cutting away.
Looks like my wife can take it from here… Literally!
Off we go back home to decorate our real Christmas tree!
And when the holidays are over, you can bet we'll be recycling this tree. Here's how to recycle a Christmas tree.
---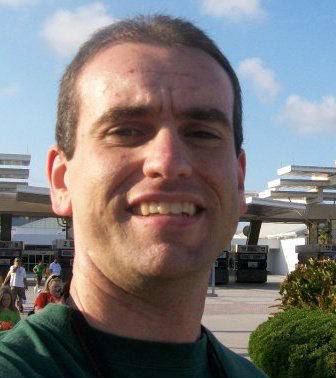 As an advocate for good health, I usually try to choose the 'greener' option over other more dangerous and/or wasteful options. Generally speaking, if it's bad for your health or the planet, I try to avoid it. In my effort to live green, I like to find new (healthier) budget-friendly ways to do things — from cleaning to recycling to home decorating. My goal is to help you take the chore out of living green by sharing fun new ecofriendly ideas that you can try today… or any day! My all-time favorite way to live green is to repurpose items and give them a new use — and I've written a lot of DIY articles showing how I've done it.