This post may contain affiliate links. If you buy thru these links, we may earn a commission at no additional cost to you.
---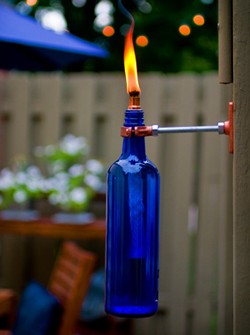 Alcohol.
What's better than enjoying a relaxing drink with friends to unwind after a long day?
Making lots of cool crap from the empty bottles, that's what.
Now personally I'm not much of a wine drinker (pass me some rum or a good whiskey, and it's a different story), but whether you are or not, you do NOT want to miss out on these 4 DIY ideas for recycling wine bottles.
So it's no secret that I've got a serious thing for clever DIY projects.
Why?
Because reusing is way cooler than recycling (don't worry, recycling rocks too… especially compared to the trash can).
Something within me just loves making something with my own hands… and it doesn't matter to me if it was my idea or one that I saw somewhere else.
What about you? Do you have that going on at all?
4 Recycled Wine Bottle DIY Ideas
#1  Wine Bottle Tiki Torch (pictured above)
I first found out about this beautiful project from my friend Matt Embrey, mastermind of GreenUpgrader.
This DIY comes from Gerardot & Co. and will show you how to upcycle a wine bottle into a porch mounted tiki torch.
I agree with Matt, even though I haven't yet tackled this DIY project, it may be my new favorite!
#2  Wine Bottle Twinkle Light
Even though I'm not much of a wine drinker, I must admit that sometimes the bottle design and/or the label alone makes me want to buy it.
Well that's perfect if you're going to use it for a beautiful accent light.
All you need to make these beautiful wine bottle lights are an empty wine bottle, a string of Christmas lights (preferably LED Christmas lights), and a drill.
These are so easy to make and customize, that you may even have some luck selling them too. Who knows?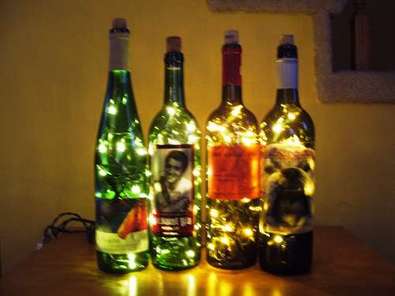 #3  Drinking Glasses from Wine Bottles
Running short on drinking glasses around the house?
Why not tackle this project and make some nice drinking glasses from empty wine bottles?
You're probably thinking that you're out of luck on this project because you don't have a glass cutter or a blow torch around the house, right?
Well did you know that all you need to cut a wine bottle is a tea light candle?
Yeah, it's explained in step 3 of this project.
#4 Wine Bottle Flicker Lamp
In this wine bottle project you'll find out how to add a Spanish style or Pirate-esque flair to any room.
Cut off the bottom of the wine bottle (using the tea light method), build a basic wooden base, add a flicker light, drip the bottle in candle wax and voila!
This particular project could be further simplified by simply placing a few battery powered flickering candle lights ($3.50 at Amazon) under the wine bottle.
Going that route would make it an ultra portable accent and conversation piece!
Wine bottles are wildly popular items to reuse and craft into something else.
Have you ever upcycled a wine bottle into something creative? If so, what was it?
Feel free to post some pictures of your handiwork in the comments below.
I think every little step toward living green is an awesome one… but eco-snobbery sucks! My goal is to help newbies learn the most important steps toward living green — individually and collectively. Personally, I strive to have as little impact as possible on Planet Earth while I'm here.