This post may contain affiliate links. If you buy thru these links, we may earn a commission at no additional cost to you.
---
Water is pretty important.
Jin-young Yoon thought so as well when he designed the Save Water Brick.
As the name states, the brick does more than just the ordinary brick, its unique design actually collects and saves water!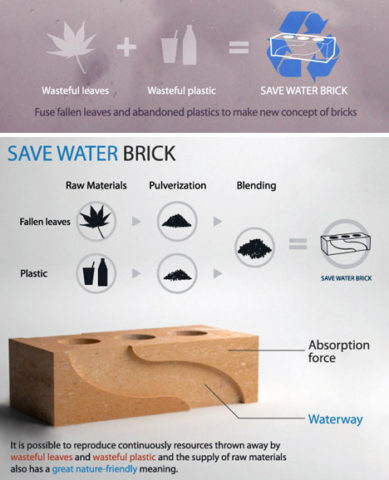 As you can see in the picture above, the brick has 3 holes in the top that helps to funnel rainfall and other water.
But that's only the beginning of this brick concept's eco-friendliness.
The Save Water Brick also has a groove designed into the side of the brick that can channel water to a garden, rain barrel, pond, fountain, or even an underground cistern.
The groove has a S-curve design that resembles a winding river, which looks pretty cool, but also makes directing the water through multiple bricks an easy task.
The brick not only saves fresh water, which is becoming increasingly more scarce, but is also made of materials that would usually go to waste.
The design combines those pesky fallen leaves with recycled plastic, which are then ground into a powder like substance and fused together to make this water conserving brick.
The bricks were designed with the purpose of building houses that both saved and utilized fresh water, but they can also be stacked in a tower and made into a water collecting device (as you can see in the picture above).
Would you consider buying a house made of these Save Water Bricks?
How about making a small tower out of them?
See more details and images of the Save Water Brick at Dornob.
I'm an outdoorsy and recently graduated from college yogi. In the past few years I've learned lots of simple steps to becoming greener and have found living green to not only be rewarding, but easy. I hope to pass on some of these simple ideas to you too!