This post may contain affiliate links. If you buy thru these links, we may earn a commission at no additional cost to you.
---
Real hikers get out and explore the great outdoors year round… and don't let anyone tell you different.
As fall draws to a close, so do most hikers' trekking poles, but the winter landscape allows you to experience your favorite hikes or camping spots in an entirely new way.
A new pair of eco-friendly hiking boots will help you kick it in nature all winter long.
It doesn't matter to me if you're rediscovering an old favorite trail or trail blazing a new one, just get out and experience the sound of the wind through the naked winter trees.
Now, on to my review of these boots…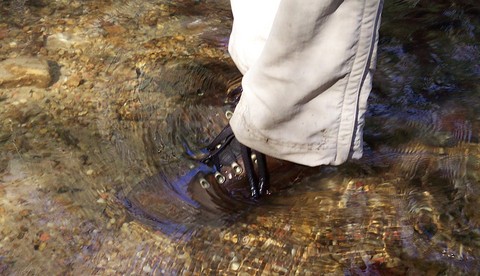 Hi-Tec Altitude Hiking Boots
Hi-Tec has been making quality hiking boots and apparel since the early 1970's.
Their flagship boot, the Hi-Tec Altitude, is the number one rated light hiking boot in the world.
As a matter of fact, a pair of Hi-Tec Altitudes were my very first pair of serious hiking boots.
Last year those boots, after 10+ years of enjoyment and 100's of miles over rocky, sloppy, dirty trails, finally failed me. These boots are built to last, and believe me when I say that I am not even close to easy on hiking boots (or any pair of shoes, for that matter).
Imagine how excited we were here at The Fun Times Guide to Living Green (not to mention me, personally) to hear that Hi-Tec was coming out with an eco-friendly version of their most popular boot.
Enter the Altitude Enviro.
These boots just hit the market this month, but Hi-Tec was kind enough to send us several pre-production pair of Altitude Enviro's last fall.
We've put them through some grueling tests for the past year.
What makes the Altitude Enviro so awesome as a hiking boot?
Waterproof low-chrome full-grain leather upper
Soft padded leather collar
Fully gusseted action leather tongue
Comfort-Tec contoured sockliner
Lightweight injection-molded EVA midsole
What makes the Altitude Enviro so eco-friendly?
Waterproof low-chrome leather uses less chemicals for the tanning process & water based cements
95% recycled uppers
90% recycled metal steel shank for support
90% recycled eyelets
50% recycled insole top
50% post-consumer recycled nylon lining
15% recycled rubber hiking outsole
15% recycled insole cushioning
Believe me, the list goes on and on and on to include things like 100% recycled content packaging, metal-free dyes, and even a bio-diesel fueled manufacturing facility.
One very cool and very eco-friendly feature of the Altitude Enviro's that Hi-Tec isn't getting much press about is that the "Enviro" version of the Altitudes are cast in the same mold as the other versions of the Altitude.
Why is that important?
Because it drastically reduces waste by eliminating the need to cast new molds for the Enviro version.
But are the boots any good?
In a word, "Yes." In two words, "Hell, yes!"
Our panel of reviewers has worked them through some pretty nasty conditions over the past year. The picture above is from one of their excursions… and yes, that is water up to the middle of the tongue (but without water in the boot).
All 4 of our reviewers loved the boots.
Here's a breakdown of their thoughts, pro vs con style:
Pros
sturdy and roomy
good for both short and extended hikes
completely waterproof
good traction in a variety of terrains
seem to mold to your foot for a custom fit as they break in
Cons
leather construction means they will initially be stiff and require breaking in
too roomy, for some feet
The large toe box of the Altitude Enviro's led to one of our male reviewer's foot sliding around inside the boot a great deal. (Though his foot is self-proclaimed, "narrow and girlie".)
One of our female reviewers actually had the outsole pull away from the upper near the toe while on a wet hike. That led to wet socks. Hi-Tec told us that they have not heard another single report of this happening. Hopefully, it was simply an isolated issue with our models being pre-productions versions.
On the bright side, that reviewer was able to permanently mend the boots with super glue… and has yet to have them fail again. Good to know that if something were to happen on the trail, these boots can be fixed on the fly.
I think every little step toward living green is an awesome one… but eco-snobbery sucks! My goal is to help newbies learn the most important steps toward living green — individually and collectively. Personally, I strive to have as little impact as possible on Planet Earth while I'm here.