---
Some articles on this site contain affiliate links. If you purchase through these links, we may earn a small commission at no additional cost to yourself.
---
Having a hard time finding fun and easy information on living green?
Mozilla's social media browser, Flock, rolled out it's Eco Edition yesterday on Earth Day.
I downloaded it and have been exploring it's features today and my official analysis is WOW!
What makes this browser so great for you and the Earth? Let's find out…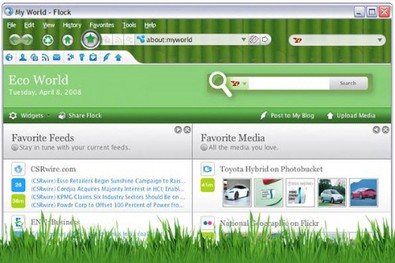 What's so great about Flock Eco Edition?
Well, like Lornali at SocialMediaToday .com says,
"The Eco-Edition comes prepopulated with the best news, photos, videos, and feeds from leading eco-content partners on the Web,delivering fresh content from Grist, GroovyGreen, Treehugger, PlanetGreen, Sprig, Current and other top eco brands daily."
What does this mean? This means if you're all about (or at least interested in) living green and your a social media junkie (like me!), Flock Eco Edition is your dream browser!
Eco Flocking Features:
Social media site integration allows you to manage your flickr, facebook, youtube, and twitter right from the People Sidebar
Drag and drop pictures, videos, or whatever. All you do is drag from the media bar or web to a blog post, facebook message, or whatever and BAM, there's your pic
Easy file uploading…even batches of up to 1,000!
Native blog publisher that will post to any of the major platoforms around (and some of the minor ones)
Bookmark a page to multiple places (like bookmarks folder, del.icio.us, and StumbleUpon) with one click
One of the coolest things about the browser is that they'll be donating 10% of their proceeds (even though the browswer is a free download) to an environmental charity chosen by the Flock Eco Edition users at the end of the year!
EcoTechDaily.com says,
"The Flock Eco-Edition is an interesting development — a well-considered specialty browser for an active affinity group. It renders web pages well, fields an impressive feature set, and offers special content features which are actually special."
Flock is Great, But Will it Replace My FireFox?
Like Jeff at Sustainablog.org, nothing has even come close to replacing my trusty ole' FireFox…but Flock may come close.
FF users will find Flock very familiar as it is a Mozilla product itself. It is also built on the same platform as FF, so navigation is nearly identical.
Unfortunately there are only about 32 extensions currently available for Flock. I have 37 extensions in my FF!! Of those 37, about 28 are quintessential to my online life, hobbies, and various businesses.
The folks at Flock do say, however, that if an extension works with FF, it'll probably work with Flock ("but we can't guarantee, blah, blah, blah…). Perhaps I'll attempt to load some of my favorite FF extensions into Flock and see what happens.
At any rate, I'll DEFINITELY be using Flock for all of my green blogging and research needs. And if you're ever stuck for ideas of simple and fun ways to live a little greener, well Flock Eco Edition sure does have you covered. All you'll have to do is click on the feeds sidebar and select any of the preloaded green sources or any of the ones you've imported on your own.
Feel free to add The Fun Times Guide to Living Green's feed to that list so you can keep track of all the new, fun, and easy ideas we talk about here!
So what do you think about Flock Eco Edition? Could it possibly become your default browser? What about a supplemental browser for your green needs?
Flock 1.1 and Eco Edition are free downloads for Windows, Mac, and Linux. To learn more about Flock and it's Eco Edition, check out this video:
I think every little step toward living green is an awesome one… but eco-snobbery sucks! My goal is to help newbies learn the most important steps toward living green — individually and collectively. Personally, I strive to have as little impact as possible on Planet Earth while I'm here.