---
Some articles on this site contain affiliate links. If you purchase through these links, we may earn a small commission at no additional cost to yourself.
---
Happy Arbor Day everyone!
Since this last holiday of Earth Month happens to fall on a Friday this year, I thought we'd celebrate by indulging in some comic relief.
Check out this clip of Jim Carey as "Environmental Guy" in his early days on In Living Color…and then let it be a lesson on why eco-snobbery sucks!
Thanks to my green blog buds Shea Gunther of Mother Nature Network and Michael d'Estries of Ecorazzi for sharing this first.
They rock!
(If you don't follow their blogs you're seriously missing out on some great green wit, by the way.)
Will you be planting any trees for Arbor Day today? I am! I have one more big blank spot in my landscaping that I'll be planting a dogwood tree in later today.
Here's a picture of where it's going to go. What do ya think? Do you think it will look nice there?
And just in case you were curious, here is the other side of the sidewalk where I built a fountain with a 3′ waterfall AND a pergola (both were also designed by your's truly) because nothing would grow there.
So far I HAVE been able to keep yellow jasmine and crossvine alive on the pergola. Both are blooming and growing well…but we'll see how things go.
OH, BY THE WAY: I'll be teaching you how to build a fountain like this later on in the spring! After pricing some options around here, I could have hired a company to build this fountain for $1200-$1500!
After I picked myself up off of the floor, I instead decided to tackle it on my own and built it myself from almost entirely salvaged materials for $150…that's what I'll be showing YOU how to do.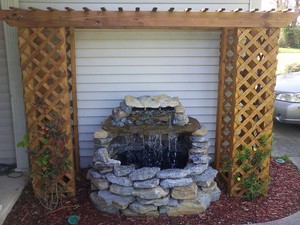 Pretty isn't it? I know. I rule…but thanks anyway. 😉
If I decide to take on another in-ground water feature, I'll probably create one with a waterfall that drains into an underground rain barrel.
How amazing is that?!
So tell us, for Arbor Day today what kind of tree are you planting and where?
I think every little step toward living green is an awesome one… but eco-snobbery sucks! My goal is to help newbies learn the most important steps toward living green — individually and collectively. Personally, I strive to have as little impact as possible on Planet Earth while I'm here.