This post may contain affiliate links. If you buy thru these links, we may earn a commission at no additional cost to you.
---
Who cares about, "What would Jesus do?". Try asking yourself, "What would Elphaba do?".
Oh you don't know Elphie? Sure you do, you just may know her by another name…"The Wicked Witch of the West".
Ring a bell now?
Well if you haven't been to see the musical, Wicked, hop on your broom and fly as fast as you can to the nearest city it's playing in. Not only is this Broadway show utterly amazing, but the color green runs deeper than just Elphaba's skin.
Wicked has gone: "Green. For Good."
Read on to find out just how so…and to watch the best bootlegged "Defying Gravity" video.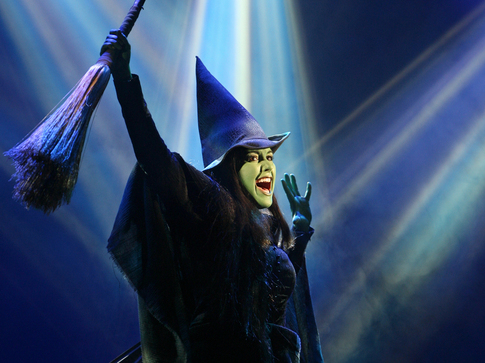 If you don't know, Wicked is the back story of Glinda (the good witch) and Elphaba (the wicked witch of the west).
Not only can you find Elphaba's 17 tips for leading a greener life, but the production itself takes some pretty amazing steps towards being greener.
Here's a small excerpt from NYC.gov's, Broadway Plays Going Green:
"Broadway is going green, and two shows are leading the way in the effort.

It all started when Wicked producer David Stone watched An Inconvenient Truth a few years ago and found himself inspired. He proposed a challenge to the cast and crew of Wicked: be green, but in a very different way from the show's green-skinned main character Elphaba – who later becomes known as the Wicked Witch of the West by the time Dorothy arrives in Oz.

For eighteen months, the production took a hard look at every aspect of production and thought up new ways to save energy and be conscious of its carbon footprint. They switched to rechargeable batteries in the mic packs and amplifiers, thus saving hundreds of batteries every month. They make sure to only print day-of cast changes for Playbill when they're needed, and instead of multiple inserts printed on multiple pieces of papers, they print it all on one sheet. When the fifth anniversary CD came out last year, it was released in a recycled paper case instead of the typical plastic.

In the show, Elphaba leads the charge for animal rights. "We really think that if Elphaba was around today, she'd be trying to save the planet," said Susan Sampliner, Wicked's company manager and co-chair of the Broadway Green Alliance, which grew out of Wicked's efforts."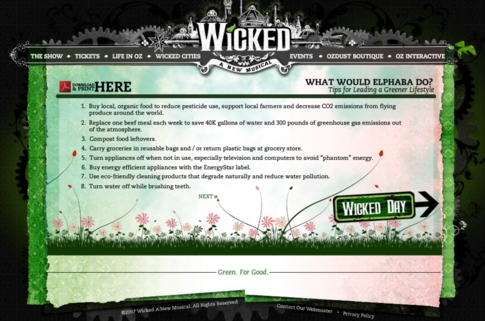 I love it! I mean everyone knows that you can go all Elphaba-esque and paint yourself green…but literally going green doesn't change anything.
Not only has the production itself gone green, but so has all of the 100% organic cotton Wicked t-shirts. Head over to the Wicked store and you'll find everything from 100% organic cotton Wicked t-shirts to eco-friendly Wicked jewelry, and even a 100% organic cotton Wicked tote bag [albeit rather expensive at $30].
A Taste of the Good & Green Stuff
Wicked is on its 2nd national tour right now and this tour's company is absolutely amazing! All of its cast has been on Broadway, but (for me at least) the shining star is Marcie Dodd…who played Elphaba on Broadway.
In addition to singing, I've both been around music and playing it my entire life, and I have NEVER heard a voice as big and powerful as Marcie Dodd's. Check out the beautiful and ridiculously talented Marcie Dodd on her Facebook.
One of the most popular numbers in Wicked has got to be "Defying Gravity". It's an emotional and dramatic performance that ends the 1st Act, and it WILL make you want to shed some tears AND whatever it is in your life that you're letting hold you back.
So let go and try defying gravity. I dare you.
Here's a Defying Gravity video worth watching. And while you're at it, you may want to check out the incredible Defying Gravity lyrics, too.
https://youtu.be/O5V9KwppMfs
Have a great weekend. Why don't you try defying gravity a bit?
I think every little step toward living green is an awesome one… but eco-snobbery sucks! My goal is to help newbies learn the most important steps toward living green — individually and collectively. Personally, I strive to have as little impact as possible on Planet Earth while I'm here.