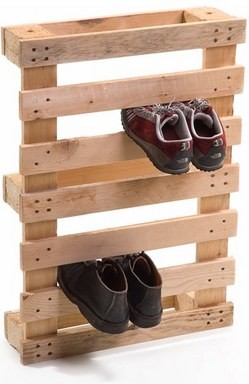 Upcycling is SO much more fun than recycling.
Upcycling is taking something that has outlived its intended usefulness and gets converted into something even more awesome.
One of our favorite things to upcycle here at The Fun Times Guide to Living Green are shipping pallets!
Israeli designers, Junk+Ion, are absolute masters at upcycling shipping pallets and other everyday items into wonderfully useful pieces of art and furniture, like the pallet shoe rack you see here. (Hat tip: Treehugger)
DIY Pallet Shoe Racks
Here are some great examples of DIY pallet shoe organizers:
So what else can you do with shipping pallets?
Maybe more than wondering what you could build with salvaged shipping pallets, you could find yourself wondering, "Why would I want to use shipping pallets to make anything?"
One user in this pallet project metafilter says,
"Pallet furniture is actually a big deal right now, as used pallets are an endemic disposal problem throughout the industrialized world. But what's being talked about is recycling the wood and using that wood to build furniture, basically a heavy-duty woodworking project rather than an ad-hoc money-saver."
Other Fun DIY Pallet Projects
If you're looking for more DIY projects that involve shipping pallets, check these out:
My Best Tip When Working With Pallets
Just as a reminder when working with shipping pallets (or any lumber, for that matter)… be sure that you are using non-treated wood. Pressure treated wood has been treated with various chemicals to help it resist weather, rot, and insects.
Want to take a guess on what one of those chemicals is? Arsenic. Yeah, like the poison.
So whether your shipping pallet upcycling project renders those pallets unrecognizable or if it be as simple as standing it up on its end to make a shoe rack, have fun and please share your awesome project ideas here in the comments or at The Fun Times Guide to Living Green Facebook page.
Yo. I'm Jeffrey. I think every little step is an awesome one when it comes to living green… but eco-snobbery sucks.
...