This post may contain affiliate links. If you buy thru these links, we may earn a commission at no additional cost to you.
---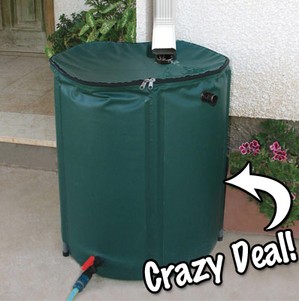 Rainwater harvesting is everywhere these days.
With the spring knocking on the door, everyone is soon to be looking for cheap rain barrels.
Good luck.
A quick Google search for "rain barrels" will net you a flurry of results with prices that range from about $99 to $600 – most falling in the &150 to $300 range.
If you don't want to build your own simple rain barrel for under $10 or get a little more creative and put together some budget friendly rain barrels with serious curb appeal, then this collapsible rain barrel is the easy deal you're looking for.
The 52 gallon Heaven + Earth collapsible rain barrel normally retails at various online and big box stores for $89.00, but Northern Tool has it on sale for $39.00 + shipping. (UPDATE: This offer is no longer available at Northern Tool.)
There is another Heaven + Earth collapsible rain barrel that is 3 times the size on Amazon.
The Heaven + Earth collapsible rain barrel is a great option for people that want to harvest rainwater but don't want some of the minor hassles that go along with traditional rain barrels, like winterizing.
Features:
Made of heavy-duty laminated 3-ply UV-resistant polyester for strength, durability and weather-resistance

Easy-access zipper hides filter to keep leaves and debris from rain barrel
Supported by 5 heavy-duty resin legs
Includes overflow valve at the top and a threaded release valve for hose attachment at the bottom
If you happen to buy a few of these collapsible rain barrels and link them together in tandem, the overflow valve at the top of this barrel will allow you to simply and easily attach more than one of them together for increased water storage.
Will you be buying a rain barrel or making your own rain barrel this year? Whatever you do, please don't get taken to the cleaners and buy a crazy expensive one available from many commercial outlets.
I think every little step toward living green is an awesome one… but eco-snobbery sucks! My goal is to help newbies learn the most important steps toward living green — individually and collectively. Personally, I strive to have as little impact as possible on Planet Earth while I'm here.