This post may contain affiliate links. If you buy thru these links, we may earn a commission at no additional cost to you.
---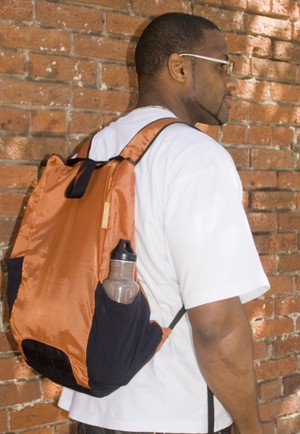 Listen up fellow men, you don't have to be a girlie man to go green… but sometimes you're almost forced to look like one.
But I'm going to help you change that right now.
One of the easiest ways to live greener is to take your own reusable bags to the grocery store.
Unfortunately, most reusable bags look a lot like a dainty little purse. Unless you're perfectly secure in your manhood, you may find yourself opting out of the reusable bags in favor of plastic bags.
Any of the following 5 tote bags will make a firm statement regarding your eco-manhood.
Man-Friendly Reusable Bags
You can pick up a gender neutral canvas bag for $.99, but the price of our manhood is going to cost a little bit more than that. The bags on this list aren't uber expensive, but most of them will set you back somewhere between $10 and $20.
For the budget conscious among us, the cheapest man-friendly reusable bag on the list costs a mere $2.95.
#1 – Get Militant
What's more masculine than weapons?
With the Greenaid bag you can go all Call of Duty: Modern Warfare 2 on plastic bags. Greenaid… grenade… get it?
The Greenaid bag isn't particularly eco-friendly in its construction, but at least you're not wasting hundreds and thousands of plastic bags by using it. (The grenade pouch is made of neoprene and the bag is made of polyester.)
#2 – Camo Prints Meet Urban Style
Finally, reusable bag manufacturers are realizing that there are men out there who want our tote bags to match our masculinity.
EnviroSax has redesigned their popular Oxford series for just that reason. Check out the latest EnviroSax pouches.
From 2 different camo prints, to plaid, and even argyle, any man can find a style to match his style. These bags may look flimsy, but they hold up to 44lbs each!
#3 – Hemp: More Than Just a Recreational Drug
Go all minimalist and rock the Organic Hemp Peasant Bag from ReusableBags.com.
This cavernous and rustic bag is 25″ H x 10" D with a round base and 43" chest/shoulder strap.
#4 – Traditional Totes With Masculine Style
If all else fails, a good ole canvas tote is the way to go. Sure, this tote bag style often times resembles a purse of handbag, but you can find them with manly flair as well.
If you happen to be a sports fan, FootballFanatics.com has reusable tote bags with your favorite team's logo emblazoned on them.
You don't have to be a football fan to rock one of these bags, they are available for NFL, NBA, MLB, and all NCAA teams. I actually own the Alabama Crimson Tide National Champions tote. Roll Tide.
#5 – Actually Designed With Men In Mind
Some of my favorite reusable bags for men and women alike come from ChicoBag.
ChicoBag realizes 2 important things:
Not all shoppers have cars.
Not all shoppers are women.
For those 2 reasons alone they designed the DayPack rePETE and the Messenger rePETE.
The Messenger is 12" x 14.5" and the DayPack is 17.5" x 20". Both bags weigh in at 5.6 oz and come with handy storage pouches. Both bags roll up to a tiny 6" x 7.5′ 'and can be zipped away in the carabiner equipped pouch for easy storage.
The DayPack is made of 89% recycled content and the Messenger is constructed from 80% recycled content. What is ChicoBag's rePETE?
What's your favorite man-friendly reusable bag?
I think every little step toward living green is an awesome one… but eco-snobbery sucks! My goal is to help newbies learn the most important steps toward living green — individually and collectively. Personally, I strive to have as little impact as possible on Planet Earth while I'm here.