This post may contain affiliate links. If you buy thru these links, we may earn a commission at no additional cost to you.
---
Littering is cool.
So, if you haven't gone and reported me to the "green" police by now, I'll explain what I mean.
A company by the name of The Way We See The World has designed a line of Jelloware cups that are edible, as well biodegradable.
As if that wasn't cool enough, if you end up throwing the cup in the grass after use, it will actually provide added nutrients to the grass!
So who thinks this might be the perfect cup for all those outside spring and summer cocktail parties?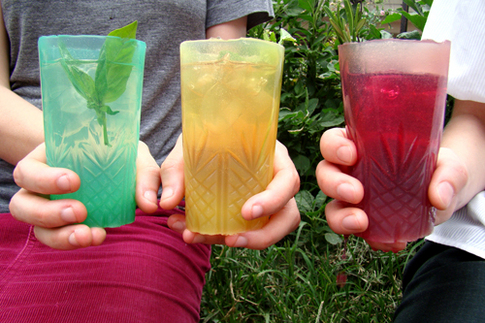 The product was first designed for a GSS Jell-O mold competition as an alternative to plastic cups.
The idea became so popular that The Way We See The World decided to build it out into an actual product.
The cups are made entirely out of a substance called agar agar. Agar agar is a gelatin-like substance that originally comes from red algae.
I know what you might be thinking: "Eat a cup that is made of Algae? Heck No!" So, for you haters out there, I encourage you to remember that those tasty portobello or button mushrooms that you might love so much are actually fungus.
If you don't feel like eating the cup, you can actually just toss it in the grass. Yeah, you read that right. The cup has an extract of seaweed in it that actually has nutrients that support the growth of grass and plants.
However, if you do decide to take advantage of the coolness that is the ability to eat your cup after finishing a drink, know that the cup actually comes in different flavors.
Some of the flavors include:
lemon-basil
ginger-mint
rosemary-beet
In another creative twist, the flavors are specifically designed to go with a corresponding drink.
The Way We See The World has been in the process of raising money for the production/further development of Jelloware on Kickstarter and has just recently (the end of this past January) met their goal.
Unfortunately, since they are still in the feedback/development stage of the project, the cups are not yet available for purchase. But the startup is going to be having Jelloware tasting parties around the country, so look for them in your area.
Would you consider buying Jelloware cups when they come to market as an actual product. If so, what are some fun ways you can think of to put them to creative use?
UPDATE: The Jelloware vegan cups are now being marketed as Loliware. They are "edible cups made with natural ingredients in flavors that complement drinks and desserts."
I'm an outdoorsy and recently graduated from college yogi. In the past few years I've learned lots of simple steps to becoming greener and have found living green to not only be rewarding, but easy. I hope to pass on some of these simple ideas to you too!