This post may contain affiliate links. If you buy thru these links, we may earn a commission at no additional cost to you.
---
With Thanksgiving right around the corner,I know a lot of us are starting to get the urge to pull those Christmas decorations out of the attic.
…Or maybe you already have them up.
Even though money can get tight this time of year, we still hang Christmas lights on and in our homes that are going to make our energy bills a little higher. How much sense does that make?
Luckily, there is a quick and easy way to make your Christmas lights save you money this year… and you can just as easily make this work even if your Christmas lights are already up.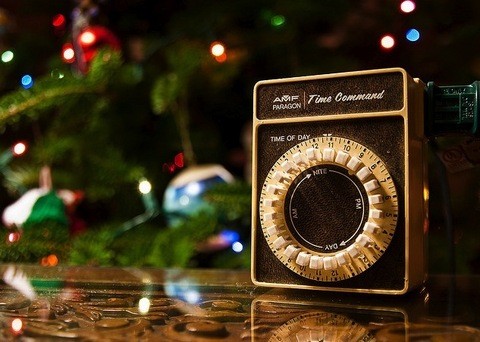 What better way to save a little money than to turn off those Christmas lights off after most of your neighborhood has gone to bed and can no longer appreciate them?
Unless you're a fan of staying up till all hours of the night (and I know I'm not) to turn off your lights, you could buy a dusk till dawn timer for your Christmas lights that turn them off at a specified time.
The dusk till dawn timer is just what it sounds like, a timer that plugs into your outlet that you plug your Christmas lights into that allows you to:
Automatically turn your Christmas lights on when it gets dark
Set a time for the lights to turn off
Great, eh? Not only will you be saving energy, but also a little money — which goes a long way this time of year.
Even though these timers are usually called "dusk til dawn" timers, they often feature a myriad of on/off settings to choose from.
Last year we talked a little about dusk til dawn timers when we told you which LED Christmas lights are NOT the greenest choice.
In that post, Jeffrey said that he uses the 6 outlet electro mechanical outdoor timer from Intermatic for his Christmas lights, but I would also recommend the Yard Master outdoor timer too.
In addition to the typical dusk to dawn settings, the Yardmaster 6 outlet deluxe timer also features:
On at dusk, Off in 2 hours
On at dusk, Off in 4 hours
On at dusk, Off in 6 hours
On at dusk, Off in 8 hours
It also has an override switch, if you'd like to turn your lights on or off before their designated time — which is unbelievably handy once you've dealt with a timer that did NOT have that feature.
Dusk till dawn timers do have one drawback…
Because the lights are turned on and off automatically by the timer, the Christmas lights are required to be plugged into the wall outlet. Even though the lights might not be on, they are using vampire energy (the energy any device draws when it is turned off, but still plugged in).
That said, you could plug your lights into your timer, your timer into a smart plug — and the smart plug into the outlet — and end up with energy-saving Christmas lights that do NOT draw vampire energy.
So, if you are looking to get into green your holiday season by saving a little energy, as well as a little money, be sure to grab a dusk till dawn timer for your Christmas lights.
It may not be the perfect solution, but it is a step in the right direction.
If you'd like to pick one up be sure to check out your local home improvement store to buy one. If you're more tech savvy and like to enjoy the holidays from the comfort of your home, than they are also available from plenty of online retailers too.
Have you ever used a dusk till dawn timer for your holiday lights. Which one? How did it work for you?
photo via spacebarpark
I'm an outdoorsy and recently graduated from college yogi. In the past few years I've learned lots of simple steps to becoming greener and have found living green to not only be rewarding, but easy. I hope to pass on some of these simple ideas to you too!