This post may contain affiliate links. If you buy thru these links, we may earn a commission at no additional cost to you.
---
What could be better than cruising on your bike while jamming to some good tunes rockin' from your iPod?
How about cruising on your bike while jamming to some good tunes rockin' from your iPod that is being charged by the wind passing through your helmet?
But wait, I can do even one better than the wind turbine helmet (with built in shades, if you didn't see those)…
How about a bike helmet modeled after a roman gladiators helmet? I kid you not, read on to check it out.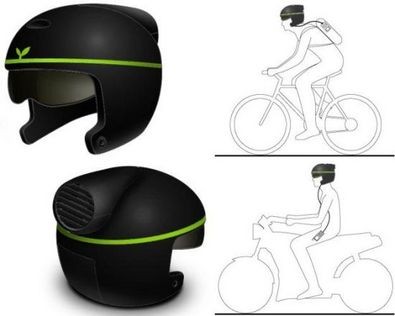 But first, a little more on the wind turbine bike helmet.
As far as I can tell, it's only a concept helmet (at least hopefully), but it WAS listed on Sierra Club's 50 Green Gadgets You Can Use to Help Save the Planet list (though I first saw it on Wired.com's Gadget Lab blog).
Gadget Lab said,
"[T]he Wind-Helmet Power Generator, a device so willfully and impractically green that it is almost like the practice helmet Luke Skywalker wore in Star Wars, blinding the wearer to the obvious before them.

This is extraordinary. Lets take a look at the bike and consider what else "you will already be using". Spinning wheels, perhaps? Wheels which have been used for decades to power the bike's lights, or even trickle-charge iPods?"
The folks at Gadget Lab have a great point. Why sport a "Tron-style helmet with a bunch of fans and turbines inside", when the wheels of your bike would be a much better power source?
I think it still remains a simple concept, since several of the gadgets listed on Sierra Club's list are concepts I saw this revealed this past February at the Greener Gadgets Conference.
Of Course You Could Become Pedalus Maximus Too
If you'd rather instill the fear of the great Roman Empire into your would-be 4-wheeled assailants, you could don this bike helmet concept by Canendo Studio that is modeled after a Roman gladiator's helmet.
I first saw this great helmet concept at TreeHugger, who says:
"I really like this bike helmet from Canedo Studio a lot. It integrates eye protection into the helmet, the ventilation is terrific, and cars will keep far away from me. Joaquin Phoenix and his sword will keep far away from me [too]."
One thing is for sure, between this gladiator-looking helmet and the Biker's Revenge handlebar plugs you can also see on the aforementioned TreeHugger post, you probably won't have that much of a problem staying alive while you cruise around on your bike.
If turning heads is what you're mission is while zipping around your bike, be sure to rock some all natural cycling clothing…no jersey, no sports bra, just a good ole' pair of pasties. Oh yeah.
Would you sport one of these bike helmet concepts if they actually went into production?
I think every little step toward living green is an awesome one… but eco-snobbery sucks! My goal is to help newbies learn the most important steps toward living green — individually and collectively. Personally, I strive to have as little impact as possible on Planet Earth while I'm here.