This post may contain affiliate links. If you buy thru these links, we may earn a commission at no additional cost to you.
---
So you've gone and dropped that nice chunk of change on an uber-green Macbook (or another eco-friendly laptop) and now you're looking for a way to tote in around in sustainable style.
Hey, why not grab a nifty neoprene sleeve to sport it in?
Too bad that neoprene contains all kinds of toxic nastiness… including some toxins that can wreak havoc on your reproductive system.
Yikes!
Luckily, a new product on the market has already swooped in to your rescue — you just didn't know it yet.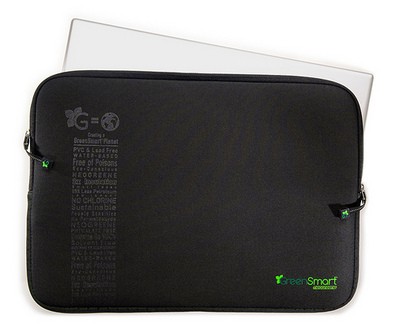 Neoprene Toxicity
I only just recently learned about the toxicity of neoprene.
It's amazing that something so toxic could be used to make such a variety of items that comes in super close contact with our skin.
Wetsuits, knee (and other joint) braces, life jackets, and laptop sleeves are just a few examples.
And what's with that neoprene smell?
Well it's actually an off gassing of harmful VOC's — in most cases including formaldehyde, lead, toluene, and chlorine.
So What Is This Superhero That's Swooping In To Save Us From Toxic Neoprene?
It's an incredible new product from GreenSmart called Neogreene!
What makes Neogreene different from neoprene?
All water based adhesives
No Chlorine
PVC & Lead Free
No Formaldehyde
No VOCs (which means no neoprene stink!)
25% less petroleum than neoprene
25% less energy (compared to producing neoprene)
Even the green coloring of the Neogreene is a water based dye (neoprene cannot be dyed)
The first products that will be made from Neogreene are the aforementioned laptop sleeves and some rather nifty looking water bottle totes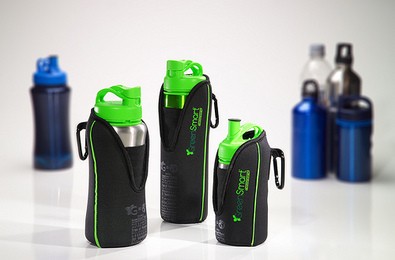 On the outside of the laptop and water bottle sleeves, these new Neogreene products have a column of vintage looking text that describes both what they are and what they are not:
"No Chlorine. Free of Poisons. People Sensitive. Water-Based. 2x Insulation."
Head on Over to GreenSmart's website to take a look at some more details of these new, safe, and super-green Neogreene products.
Oh, and by the way, these products are quite competitively priced.
I think every little step toward living green is an awesome one… but eco-snobbery sucks! My goal is to help newbies learn the most important steps toward living green — individually and collectively. Personally, I strive to have as little impact as possible on Planet Earth while I'm here.