This post may contain affiliate links. If you buy thru these links, we may earn a commission at no additional cost to you.
---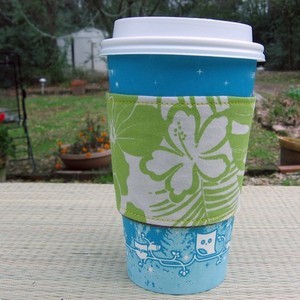 One of the most dangerous actions you can take part in is drinking unprotected coffee.
Even worse than that, however, is employing the use of cheap coffee protection – the cardboard coffee condom – as I like to call it.
Oh sure, it may keep your hands from being scalded by the steaming hot beverage you are about to enjoy, but it is most often discarded to scald the face of Mother Nature.
I'm not over dramatizing am I?
One of the simplest and easiest steps you can take towards living greener this year is to begin using your own reusable coffee cups at work, home, and even you local coffee shop.
And of course you'll want your very own reusable coffee sleeve to go along with it.
Read on for my favorite reusable mug and sleeve combo…
The 'I am not a paper cup' coffee mug
Besides the mug from the best coffee shop in Nashville, CREMA, I usually roll with my I Am Not A Paper Cup mug when I'm on the go.
This mug looks like a regular, unbranded paper cup that you might get from any coffee establishment. In actuality, it's really a double-walled porcelain mug with a white silicon lid. The double-walled construction keeps your beverage warm and your hands cool.
If you're using the cheaper I Am Not A Paper Cup knockoff, you'll be saving some money but needing some heat shielding.
For that, my new friend Becky Striepe of Glue and Glitter has you covered. In addition to being an Eco Etsy maven, Becky writes for Green Options media and greenUPGRADER.
In Glue and Glitter's Etsy store you'll find everything from aprons to lunch kits to coffee sleeves. Becky has been nice enough to offer free domestic shipping on any reusable coffee sleeve (or "cup glove", as she calls them) to readers of The Fun Times Guide to Living Green.
All you have to do is leave a note mentioning this post in the Message to Seller section of the purchase and she'll refund your shipping! Easy peasy.
If you don't see a cup glove design that strikes your fancy, she can create a custom one that matches your tastes and style.
Why is using your own mug and coffee sleeve important?
About My Planet says:
In the US, 16 billion cups are used for coffee each year. This equals about 6.5 million trees. Overall, North Americans use 58% of all paper cups, amounting to a staggering 130 billion cups – including hot and cold beverages. But other countries, particularly China, are starting to catch up.

Most cups use high-quality bleached virgin paperboard. Recently, some coffee shops have demanded cups with recycled content. While these do reduce new wood consumption, they may assuage consumer guilt more than merited. Additionally in the US, the Food and Drug Administration regulates recycled content to ensure cup safety – 10% recycled content and 90% new paper is the maximum allowed.

Paper cups are coated with polyethylene for insulation and durability. This plastic resin prevents recycling of cups. In addition, it is a suspected carcinogen. Coffee lids are made of plastic too. The overall effect, while arguably preventing hot drinks from spilling, is to reduce the aromatic smell of the beverage. At the same time, it offers the perfect environment for chemical leaching by combining hot acidic fluid with plastic.
So take a small step towards living greener and snatch up a reusable coffee mug and a reusable coffee condom!
I think every little step toward living green is an awesome one… but eco-snobbery sucks! My goal is to help newbies learn the most important steps toward living green — individually and collectively. Personally, I strive to have as little impact as possible on Planet Earth while I'm here.