This post may contain affiliate links. If you buy thru these links, we may earn a commission at no additional cost to you.
---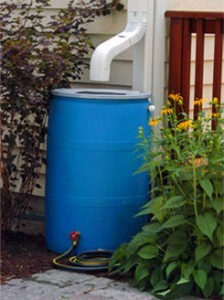 Why harvest rain water? The world is 2/3 water, is it not?
True, it is, but Sam Davidson at CoolPeopleCare.org cites a fact from RainBarrelGuide.com that less than 3/10 of one percent of that water is suitable for domestic use.
Don't you think we could find better uses for the commodity of fresh water (which we take for granted in this country) than to water our plants or wash our cars?
Recently, I posted a 2-part article here at The Fun Times Guide to Living Green that shared 3 Alternatives to Drinking Bottled Water [part 1, part 2]. Part 2 introduced the idea of harvesting rain water for such purposes as landscape care and more.
If you could have a rain barrel for less than $10 dollars (or even free), would you do it?
You may be thinking that it would be pointless and take forever for, oh, let's say an 80-gallon barrel to fill with water to use.
But did you know that one inch of rain on 1,000 square feet of roof can produce 600 gallons of rainwater?
I sure didn't! This obviously means that any rain barrel is going to need an overflow hose.
Let's discover some cheap ways to obtain your very own rain barrel.
These are all DIY projects, but are of a very basic nature. Virtually anyone should be able to complete them with ease.
Meredith at The Fun Times to Guide to Brentwood, TN commented on the second part to 3 Alternatives to Drinking Bottled Water with some quite handy information on this topic. She says that Metro Nashville Water Services was giving away free rain barrel kits early this year! There is apparently a waiting list for the kit now, but check with them to see if some are still available. In the meantime, they do provide a handy guide to making your own rain barrel. Many municipal governments offer free rain barrel kits of some sort, so check with your local governing body to see if they offer something of the sort.
Check with your local bottling company. Many of them sell their barrels for under $10. You may even luck out and find one for free! Then all that is left is to buy the inexpensive hardware from your local Home/Hardware store, and you're good to go!
One commenter on the above referenced article at CoolPeopleCare.org says, "Nashville Drum and Barrel has 55 gallon plastic drums (food grade) for $8 apiece." Nashville Barrel and Drum is in Fairview, TN. That drive would be worth it for an $8 barrel, considering the skyrocketing prices of pre-fab rain barrels at hardware stores and the Internet.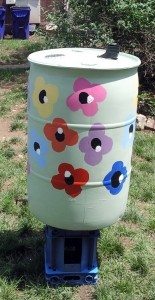 Fun Rain Barrel Making Tip
Get everyone involved by having a rain barrel painting contest!
Gather your children, family, friends, neighbors, and the like to make (unless you want to construct them all yourself) and paint your new rain barrels with low or no VOC paint.
Here are some examples of nicely decorated barrels, and even more tips for using a rain barrel at your home.
No one wants to have an ugly white, green, or blue plastic drum disrupting their nicely landscaped lawn. Make this an opportunity to enhance your home's unique look and show your loved ones how fun it can be to Live Green!
I think every little step toward living green is an awesome one… but eco-snobbery sucks! My goal is to help newbies learn the most important steps toward living green — individually and collectively. Personally, I strive to have as little impact as possible on Planet Earth while I'm here.