This post may contain affiliate links. If you buy thru these links, we may earn a commission at no additional cost to you.
---
What could be better than cheap solar powered lights?
CheapER solar powered lights made by you… like these beautiful homemade SunJars!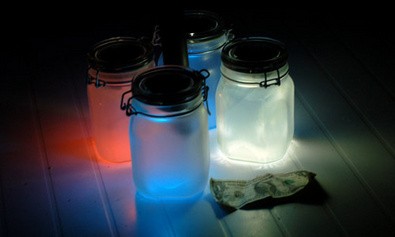 Here's how to make 'em…
SunJar Coolness
You may well be familiar with the original SunJar.
Sure, we all know of and bow to its awesomeness, but $34.99 + shipping is pretty steep eh?
Maybe it isn't too pricey for you, but my pockets sure aren't that deep!
For that very reason I decided to share 4 DIY SunJar alternatives that you can make for under $10 with you a while back.
Well we've come back around to that same topic, and this time with THE mac-daddy of all SunJar DIY's!
The plans for this project come from LifeHacker and show you how to create 4 SunJars for $44… or $11 per light (for the mathematically challenged).
How To Make SunJars Yourself
It's pretty easy really.
Basically you just…
Snag some flip-top canning jars (mason jars won't work).
Buy the cheapest solar-powered garden lights you can find.
Rip the solar lights apart.
Insert the solar panel and attached LED light from the garden light you just destroyed into the lid of the jar.
Spray the outside of the jar with glass frosting.
Use colored translucent labels from some bottles of water in your recycling bin to "filter" the light into different colors (as seen in the pic).
Enjoy your new DIY SunJars!
Yeah, so that's pretty much an over-simplified version of the plans (but actually not really all that over-simplified at all). You can see the FULL details and pictures of each step at LifeHacker.
So who's slating this as their next DIY project? I am!
If you tackle this awesome project please leave a link to a picture of it in the comments below.
Happy DIYing (and money saving)!
I think every little step toward living green is an awesome one… but eco-snobbery sucks! My goal is to help newbies learn the most important steps toward living green — individually and collectively. Personally, I strive to have as little impact as possible on Planet Earth while I'm here.