This post may contain affiliate links. If you buy thru these links, we may earn a commission at no additional cost to you.
---
I'm going to share some quick tips for those who are trying to "live green" this holiday season.
Let's start with finding a green Christmas Tree.
Real vs Artificial Christmas Trees
So, is it more green to have a real Christmas tree or an artificial one?
We've weighed the pros and cons of real vs fake Christmas trees to help you make the best choice for your home.
Here's how to find a non-toxic artificial Christmas tree. (Yes, there really is such a thing.)
In reality, there's more to consider than simply real vs artificial. There's also the cut tree vs potted tree debate.
Comparing a locally grown live cut-tree to a full size plastic tree, they found that the real tree used about a 5th of the energy (assuming that the plastic tree would be used for 10 years). The problem is compounded when considering that most artificial trees are made from environmentally toxic PVC. —OrganicConsumers.org
Where To Find Green Christmas Trees
Here are 5 ways to find environmentally friendly, green Christmas trees in your area:
For each of these, you'll simply want to call ahead and ask if they have chemical-free Christmas trees.
Organic farms around the country offer locally grown, pesticide-free trees and wreaths. Buying from tree farms that use integrated pest management (IHP), which is a biological, rather than chemical, method of pest control is another option. For example, growers release ladybugs that kill plant-eating aphids. It recreates the natural cycle." —SmithsonianMag.com
Consider Renting A Christmas Tree
Did you know that you can actually RENT a Christmas tree?
Yep. The Living Christmas Co. will deliver a live Christmas tree to your doorstep, then collect it it in January, and replant it so it will be ready again for the following Christmas.
By the way, they're a Shark Tank success story.
More About Green Christmas Trees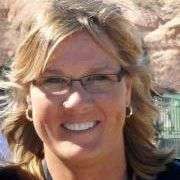 My experience with living green consists of taking baby steps (like making one big change each year as my New Year's resolution) — because I've seen too many people burn out on trying to 'Save the Planet'. I share a lot of Simple Ways To Go Green, as I find new and successful strategies that have worked for me. While I'm baby-stepping my ecofriendly habits in life, you will find me at the corner of Good News & Fun Times as publisher of The Fun Times Guide (32 fun & helpful websites).