This post may contain affiliate links. If you buy thru these links, we may earn a commission at no additional cost to you.
---
Are you already overwhelmed by the school supplies list that little Johnny just brought or will soon bring home?
If you've got to fork over the dough for the school supplies anyway, why not buy eco-friendly supplies?
That's right, you can get everything from paper and notebooks made from bananas or mangos to solar backpacks and even FSC certified graphite and colored pencils.
All of these supplies are easy to come by, eco-friendly, and help you take one more step towards a greener life.
Oh, did I mention that they're safe? Yeah, who wants PVC, chemicals, and dyes all over their kids?
Don't worry, you don't have to go store hopping and internet scouring, we're laying them all out right here for you.
As you probably already realize from glancing over that supply list, there's A LOT to cover, so let's break it down by category shall we?
Eco-Friendly Notebook Paper, Spirals & Notebooks
There are several options to consider when thinking about all that notebook paper little Susie will need this year.
Now that you've got that great environmentally friendly paper, you're gonna need something to put it in right? For great green notebooks, check out SustainableGroup.
They've got:
3-ring recycled binder dividers
Recycled CD sleeves
Recycled labels
and much more
SustainableGroup's recycled binders are made from 35-38% post consumer recycled cardboard and are a GREAT alternative to toxic vinyl binders.
They're also more durable and MUCH less prone to spine tearing.
The downside is that they only sell online and in lots of about 10 binders (so far as I've been able to tell). So you might think about getting your entire class together and everyone going in on a bulk order to save some money.
Sustainable Pencils and Art Supplies
Ever thought about how many trees are felled every year to make graphite pencils and art supplies?
Instead of going the old, boring route of the yellow #2 pencil, check out graphite and colored pencils by ForestChoice.
ForrestChoice's many pencil varieties are FSC certified. What does that Forrest Stewardship Council certification mean?
"FSC-certification provides independent proof that the wood in ForestChoice pencils are sourced from those forests operating under the most stringent practices for environmental responsibility, social benefit, and long-term economic viability."
At only $2.39 for a box of 12 colored pencils and $1.99 for a box of 12 #2 graphite pencils, there's no reason at all we couldn't all switch over to these fine writing utensils!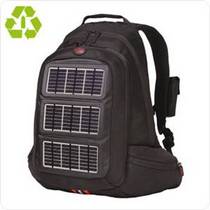 Eco-Friendly School Gear
What good will all these great green and environmentally friendly school supplies do if you can't tote them around somehow?
That's right, the backpack is the quintessential piece of hardware for every student.
Marisa Belger from TODAYshow.com shares, among a host of other great green school supply ideas, 3 great eco alternatives to the traditional PVC and vinyl based bags.
Solar Power Student: The Voltaic Backpack sports 4 watts of solar power provided by 3 light weight, durable, water-proof solar panels. It also has 11 adapters for cell phones, iPods, PDA's, etc. *Note that it is not designed to charge laptops, but does have a padded laptop sleeve.
Organic Hemp Backpacks: Check out these wonderfully stylish organic hemp backpacks by Rawganique.com.
Recycled PET Backpacks: Made from 98% recycled plastics, these backpacks from Natural Collection will help you rock that retro throwback style in a modern green way.


Also consider using a hip canvas bag for packing lunches, instead of paper bags or store-bought lunchboxes that contain lead!
UPDATE: Check out Inhabitat's Top 5 Eco-Friendly Back to School Bags. They rock!
Making It Really Simple
Via Earth911, TheGreenOffice has already put together eco-friendly back to school kits that are grade specific!
You can pick up a kit for your Kindergarten-2nd grader for $16.99, 3rd-5th grader for $24.99, 6th-8th grader for $29.99, or even score some brownie points by giving your child's new teacher a green teacher kit for $49.99!
As you can see, these kits may be the most economical choice when gathering all your back to school supplies. All you need to do is fill in the gaps with any of the products we've mentioned here in this mother of a post, and you're good to go–eco friendly and worry free.
What are some of your favorite green back to school products or tips for this school year?
I think every little step toward living green is an awesome one… but eco-snobbery sucks! My goal is to help newbies learn the most important steps toward living green — individually and collectively. Personally, I strive to have as little impact as possible on Planet Earth while I'm here.