---
This post may contain affiliate links. If you purchase through these links, we may earn a small commission at no additional cost to yourself.
---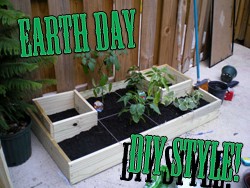 Looking for a fun way to celebrate Earth Day this year?
What could be better than getting your hands a little dirty and greening your own home?
Yeah, I think that'd be a little more productive than simply screwing Earth Day.
Following are my 5 favorite eco-friendly DIY ideas from Instructables' Earth Day list.
Clearly, any of these would make great projects for Earth Day!
In this project (pictured above) from Square Foot Gardening you can,
"Add some OCD (i.e. easy to maintain) gardening space using an adaption on Mel Bartholomew's Square Foot Gardening practices (build up, don't dig down and organize in sq. ft.)."
#2: Solar Thermal Water Heater for Less Than $5
Your hot water heater can account for up to 25% of your total home energy usage. A solar thermal water heater is one of the best projects you can dive in to.
Even though this DIY project is a little smaller scale than what you'd need for an entire house, it's still FUN and helps you learn that:
"Using the sun instead of fossil fuels to heat your water you will be preventing dangerous greenhouse gasses from being released into the atmosphere, helping to prevent global warming."
#3: 100 Watt Vertical Wind Turbine for Your Deck
The Instructable on this one is pretty self explanatory and obviously you'd want to be in an area that gets plenty of strong wind. Here's a video of this particular project in operation:
#4: A TOTE-ally Easy Reusable Tote
This Instructable is written with the assumption that you have NO experience sewing (like me).
We've talked A LOT in the past about reusable canvas bags, including great organic and made-in-the-US options, less than $1 ones, and much more.
I don't know about you, but I always get a greater sense of satisfaction by making something myself than going out and buying it. This project would be great for the whole family.
Make some reusable bags and then go grab some great organic produce!
#5: Spinning Double-Decker Drum Composter
Composting is something I haven't quite yet delved into…but I've wanted to for a long time!
The author of this Instructable says,
"Composting is easy and fun. Kitchen scraps, leaves and lawn clippings are allowed to decompose naturally and they become a healthy, nutrient-rich and beneficial soil for the garden.
In this Instructable, I will show how I made a spinning double drum composter to make soil for my garden."
This project does look like a LOT of fun to me…but then again I'm biased towards wood working, over crafting.
You could pair this project with the square foot gardening project mentioned above and be well on your way to growing lots of your own food!
Check out more fun ideas for celebrating Earth Day and Earth Month this year.
What are you plans for Earth Day? Are you going to tackle one of these great 5 projects?
I think every little step toward living green is an awesome one… but eco-snobbery sucks! My goal is to help newbies learn the most important steps toward living green — individually and collectively. Personally, I strive to have as little impact as possible on Planet Earth while I'm here.