This post may contain affiliate links. If you buy thru these links, we may earn a commission at no additional cost to you.
---
This night light has been on my radar for quite awhile now.
I bought 5 of them! I've been using them for months in my kitchen and powder room — and every time someone visits our home, they comment on how nice the lights look (especially at night when the room is very dark).
One thing I didn't mention in my first review of these nightlights: their energy efficiency!
So here's a little about the SnapPower LED night lights in terms of being eco-friendly …
How These Nightlights Are Different
This is primary reason that I bought my first set of SnapPower LED night lights for our home:
Rather than using up valuable plug-space in your wall outlet, the lights shine from the bottom of the outlet plate itself — so you still have 2 free outlets to plug things into!
That alone is a huge benefit to me. It's the #1 feature that first got my attention and makes these night lights vastly different from any other night light.
How it works:
Remove your current outlet coverplate – there's just 1 screw in the center of the coverplate itself.
Replace it with a SnapPower Guidelight coverplate – again, it just takes 1 screw (no tools required).
Wa-lah… You've quickly and easily transformed your standard wall outlet into a convenient night light!
How These Nightlights Are Eco-Friendly
From an eco-friendly perspective, here's what makes these new LED night lights so great:
The LED lights cost less than 10 cents a year to operate — which means they're cost-effective to use.
The lights will last for 25+ years — which makes them the most green and energy efficient night lights in the market right now.
The lights automatically turn on and off by a sensor — during the daytime, they're off. During the nighttime, they're on. So you never have to remember to turn them on or off.
One [traditional] 7-watt night light left on all year will cost a little over $6 in energy at $0.10 per kilowatt hour. That may not seem like much, but if you have several night lights, it can add up. Also, since the lamp life ranges from 1,000 to 3,000 hours, those little bulbs may need replacing several times a year. Source
It's The Best Night Light Ever!
Personally, my husband and I have spent a good deal of time working with home builders and contractors to help us design our dream home.
I can see a number of custom home builders offering them as standard options throughout the home — because they're so smart. Any homeowner who sees them for the first time, would have a hard time saying no to this inexpensive upgrade.
And since SnapPower Guidelights are equipped with energy-efficient LED lighting for the perfect nighttime illumination, they're, without a doubt, the best night lights available right now.
For a night light, LED technology is perfect. They come in various styles, most with sensors that automatically turn them off when the room is bright. They consume from 0.15 to 0.40 watts — roughly one-twentieth that of an incandescent night light. If they don't break, they [can] last 100,000 hours — or more than 25 years at 10 hours a night. They're slightly pricier than incandescents, but the lifetime cost, including the energy, will be less than half. Source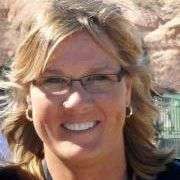 My experience with living green consists of taking baby steps (like making one big change each year as my New Year's resolution) — because I've seen too many people burn out on trying to 'Save the Planet'. I share a lot of Simple Ways To Go Green, as I find new and successful strategies that have worked for me. While I'm baby-stepping my ecofriendly habits in life, you will find me at the corner of Good News & Fun Times as publisher of The Fun Times Guide (32 fun & helpful websites).