This post may contain affiliate links. If you buy thru these links, we may earn a commission at no additional cost to you.
---
Wake up! Your beloved electronics are sucking the life out of your budget… not to mention the enormous environmental impact they have!
Luckily Green Gadgets for Dummies is swooping in for the rescue!
Before we get in to a quick breakdown of the awesomeness that is Green Gadgets for Dummies, check out these statistics from Planet Green that show why we need greener gadgets:
15 percent: Percentage of money spent on powering your computer dedicated to computing, worldwide; the rest of the $250 billion is spent on energy wasted in idling.
70 percent: Percentage of waste composed of discarded electronics, out of all hazardous waste.
529 pounds: Amount of fossil fuels required to manufacture a 53-pound computer system (including the monitor), along with 49 pounds of chemicals and 1.5 tons of water.
15 billion: Batteries produced annually worldwide.
40 percent: Of the energy used for electronics in your home is used while these devices are turned off.
Author Joey Hutsko does an amazing job at helping us learn how to shop for greener gadgets, avoid "greenwashed" products, and get the electronics we currently own to run more efficiently…all in a super fun and witty manner.
I was fortunate enough to meet Joey back in February at the Greener Gadgets Conference in NYC. He's an incredibly fun guy to be around and a fellow geek to boot. Green Gadgets for Dummies isn't going to condemn you or tell you why you shouldn't geek out, but help you geek out in the most efficient ways possible instead.
A Little More About The Author
Joe Hutsko is a gadget geek, writer, and blogger. He writes for the Green section of the New York Times, and his work has appeared in many publications from Newsweek, to Fortune, to MacWorld and more.
You can catch Joe's links and stories on his tech blog, JOEyGadget.com and on his green gadgets blog, gGadget.org. Joe is also an avid twitterer, @joehutsko, so be sure to follow him there.
Awesome Features Of Green Gadgets For Dummies
The book is broken down into 20 chapters and 6 parts. Joe mentions in the Introduction that what you shouldn't read is anything that doesn't interest you. Ha ha, I like that.
The 6 parts of the book take you from Settling into a Green Gadget Mindset, to Getting Green with Gadgets You Own, Minimizing Your Computer's Carbon Footprint, Acquiring Green Gadgets and Gear, Ridding Yourself of Gadgets the Green Way, and finally a "Part of Tens" in which Joe gives 4 great lists of ten tips.
Joe takes the "Three R's" one step further…adding "Rethink" to the trinity of "Reduce, Reuse, and Recycle". I like that a lot! He encourages us to rethink
You'll stumble upon all kinds of gems throughout the book, such as cool green peripherals and accessories, funny cartoons, and easy to follow checklists to make finding exactly what you're looking for uber-easy.
I could go on and on about how incredible this book is for anyone who is a lover of gadgets, gizmos, and technology, but I'll just let you check it out for yourself.
You can pick up a copy of Green Gadgets for Dummies on Amazon.
By the way, you'll find an awesome Green Gadgets for Dummies "cheat sheet" inside the front cover… and you may notice something familiar: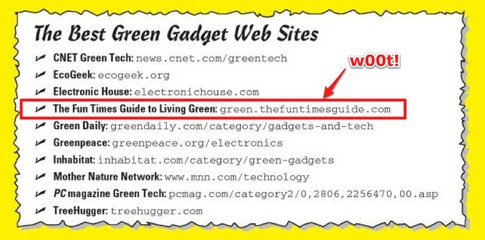 I sure didn't know when Joe told me that he mentioned The Fun Times Guide to Living Green in this book, that it meant he featured us on the inside front cover under The Best Green Gadget Web Sites! We're humbled and honored to be a part of such a great list… and as you know, we love our gadgets.
So if you consider yourself a gear head, gadget geek, or computer nerd….hurry on over to Amazon and pick up this book!
I think every little step toward living green is an awesome one… but eco-snobbery sucks! My goal is to help newbies learn the most important steps toward living green — individually and collectively. Personally, I strive to have as little impact as possible on Planet Earth while I'm here.