This post may contain affiliate links. If you buy thru these links, we may earn a commission at no additional cost to you.
---
Laptops really aren't made for our laps anymore are they?
Instead of going out and spending $100's on a fancy-schmancy laptop stand or docking station, why not make your own FOR FREE??
GreenUpgrader came up with the original plans for this eco-friendly computer stand, and they'll walk you through how to build it, too.
After I saw this awesome idea at GreenUpgrader, I got to wondering, "What other cool stuff can you make for FREE from cardboard?
As it turns out, there are all kinds of awesome ideas of things to make from cardboard.
The best part is, every time a good idea surfaces, the downloadable template so you can make your own is usually provided, as well!
In addition to the awesome DIY project mentioned above, let me share 7 more of my favorite FREE cardboard DIY projects…
7 FREE DIY Cardboard Projects
And yes, the pictured helmet is a finished helmet [albeit an incredibly painted one] made from cardboard!
Can you believe it?
All I've got to say is that someone has got some SERIOUS artistic abilities, as far as that paint job goes.
As for the actual construction of the helmet, it's not too bad at all (I mean seriously, it's cardboard — how hard could it be?).
The only question that remains when it comes to diving into this project is not, "why would I want to make a Boba Fett helmet from cardboard?".
No, the question is, "Why would I not want to make a Boba Fett helmet from cardboard?"!
#2 – Faux Glass Cardboard Bracelet
This project comes from the always amazing DIY Network.
They claim that this is, "a bracelet with the look of art glass. The best part? Only you know it's faux!"
The supply list on this project seems to be a little more on the robust side, but I'm sure any hardcore crafter will have them on hand.
Check it out!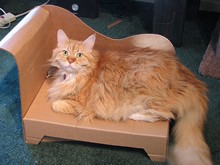 #3 – Cardboard Cat Chaise Lounge
This purrfect project comes from Evil Mad Scientist Laboratories, via Apartment Therapy.
Even though dogs totally rule, you feline freaks out there should get a kick (or hairball) out of this project.
Seriously, if cats had thumbs and could work can openers, they wouldn't need humans… So go ahead and make your cat a FREE throne of cardboard from which they can continue to look down on you.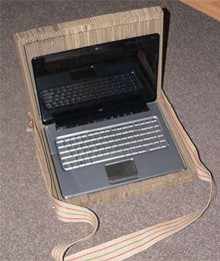 #4 – Cardboard Computer Carrying Case
Tracy at EcoStreet shared this crafty DIY idea late last month.
Since you're going to have a blast making that FREE cardboard laptop stand, why not make a case to go with it?
Seems logical.
Imagine the head turning you'll cause and the comments you'll get when people see you toting your computer around in the most eco-friendly computer case around.
Put that together with the fact that it was FREE and you actually made it, and it's impossible to beat!
Hit up EcoStreet for all the details!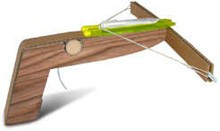 #5 – Cardboard Crossbow
Just as with the cardboard Boba Fett costume helmet above, why would you NOT want to make a cardboard crossbow?
You can find the incredibly simple, 3-step instructions for this DIY cardboard toy on Instructables.
Now go don that helmet you just made, grab your straw-shooting crossbow, and take out some co-workers.
As with the DIY laptop stand from GreenUpgrader mentioned above, this simple DIY project will save you photographers tons of money.
Print out the template, cut out the cardboard, paint it black, and no one will ever know that you didn't drop $100's on a name-brand lens hood.
#7 – iPhone 3G Dock
I found this project from GeekyGadgets in a great post at TreeHugger.
Instead of spending $30 on a dock for your iPhone 3G (because it doesn't come with a dock), make your own for free.
Now you can prop your iPhone 3G up right beside your laptop with the knowledge that you've got one sexy desktop going on and it didn't cost you a dime!
Where To Find More Cardboard DIY Projects
With all those great ideas I know it will be tough to choose! But which one(s) look the most FUN to you?
I think every little step toward living green is an awesome one… but eco-snobbery sucks! My goal is to help newbies learn the most important steps toward living green — individually and collectively. Personally, I strive to have as little impact as possible on Planet Earth while I'm here.