This post may contain affiliate links. If you buy thru these links, we may earn a commission at no additional cost to you.
---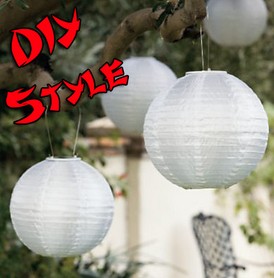 Now that fall is officially here, it's time to get out and enjoy your outdoor living spaces again.
What better way to spruce up that patio, porch, or deck than by adding some awesome eco-friendly lighting?
Too bad that it can set you back a very large chunk of change.
There are SO many options for outdoor eco-friendly lighting, but it always seems like there's a trade-off to make.
Isn't there a DIY solution that gets you everything you want out of awesome outdoor lighting and doesn't break the bank!
How does a $2 paper shoji lantern with LED lights sound?
This great DIY LED lantern idea comes from one of my favorite green decor websites, Re-Nest.
They're trying to go all DIY with an eco-friendly wedding over at Re-Nest, and like all of the rest of us, sticker shock has begun to set in when it comes to pricing outdoor lighting.
The Predicament
"The dinner will be held on a gravel road, lined by olive trees, with the nearest power outlet a good 200 yards away. Our need? Multiple light light sources that are both cordless and available with minimal cost and minimal waste."
So often times that's the case. No one wants extension chords running all over the place. But alternative options are either ridiculously expensive or just not at all practical!
Take a look at these solar powered shoji lanterns from Gaiam. They cost $29 each… yikes!
Now don't get me wrong, I love the awesome folks at Gaiam — and if your pockets are deep enough, those lanterns are a great option. But my wallet isn't even close to that thick. How about yours?
The other cordless alternative to solar powered lighting is battery-powered lights. Yeah, those are a little easier on the budget, but we're talking about measuring usage by hours, not days.
So what's a non-eco-snob lighting lover to do?
The Cheap and Easy DIY LED Light Solution
The cats at Re-Nest had the great idea to snag some secondhand paper lanterns and employ the awesomeness of LED throwies.
Oh you've never heard of throwies?
Well basically, they consist of an LED light, a small battery, and a magnet. They were originally created as a form of eco-friendly, non-permanent vandalism, but their usefulness extends much further than such a purpose.
What you need:
The throwies with LED lights can be quickly made for somewhere between 25-cents and 50-cents each, and the paper lanterns can be bought for as little as $1.15.
FYI, Mrs. Tiramisu at WeddingBee recommends using 3 throwies per lantern. She also shares some tips for using "diffused" vs "bright" LED lights.
You know what? These easy DIY lanterns would look awesome with the set of 4 SunJars that you can make yourself for under $11 (as opposed to spending $30 for one sunjar).
Imagine how great your outdoor living space, patio, garden, deck, or screened in porch will look with these awesome eco-friendly and uber-cheap lanterns!
I'm sure you've figured this out already, but you could buy different shaped and colored lanterns (and even different colored LEDs) to mix and match and add a unique feel that changes every time you entertain!
What do you think? Will these easy DIY LED lanterns be making an appearance in your outdoor living space this fall?
I think every little step toward living green is an awesome one… but eco-snobbery sucks! My goal is to help newbies learn the most important steps toward living green — individually and collectively. Personally, I strive to have as little impact as possible on Planet Earth while I'm here.