---
This post may contain affiliate links. If you purchase through these links, we may earn a small commission at no additional cost to yourself.
---
One of the greenest things you can do is be more energy efficient, but that just sounds like a drag or an unsolicited responsibility or something, doesn't it?
There are actually a ton of ways to become much more energy efficient (and technologies to help you do so) that you might actually find some that are cool and fun.
Take these 2 gadgets, for example…
Energy Orb
Where this idea came from, I don't know, but it is a good one.
The  gathers up-to-the-minute information on the price you are paying for electricity and visually communicates that information to you.
Did you know that the price of energy often goes up when demand is high and goes back down when demand is low?
This orb changes from green to light green to yellow to orange to red to let you know where the price is at the moment. It is non-obtrusive but easily gets your attention and is apparently very effective.
This video shows the Energy Orb in action:
)
UFO Power Center
This next one is similar to the Energy Orb… but different.
Like the Energy Orb, the UFO Power Center changes colors, but based on how much energy specific devices are using, not the price of energy.
Every 5 minutes, the UFO Power Center collects information on the devices plugged into it. You can also see the cost of operating each device and can see the info displayed visually – either on your PC, iPad, iPhone, or iPod touch.
In addition to the above, you can also turn devices on and off remotely using the UFO Power Center and you can set devices to turn off automatically at certain times or under certain conditions.
The UFO Power Center is in beta and so only available to some people, but hopefully it will be available to everyone soon.
Check out the UFO Power Center in action:
)
What's your favorite energy and money saving gadget?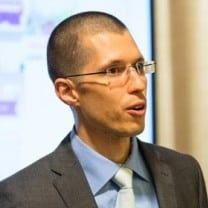 Recognized globally as an electric vehicle, solar energy, and energy storage expert, I am the director and chief editor of Cleantechnica. I'm also the president of Important Media and the director & founder of EV Obsession and Solar Love.