This post may contain affiliate links. If you buy thru these links, we may earn a commission at no additional cost to you.
---
Rain barrels are all the rage these days!
Did you know that 623 gallons of water can be harvested from 1 inch of rain on a 1,000-square-foot roof?
In terms of rain barrels, a typical 1/2-inch rainfall will fill a 50- to 55-gallon barrel.
Today I'm going to show you:
The biggest DIY rain barrel mistakes and how to avoid them.
How to make a rain barrel yourself 
How to prevent algae from growing in your rain barrel
How to keep mosquitoes from using your rain barrel as a breeding ground
How to winterize a rain barrel
Rain Barrel Do's & Don'ts
DO keep pets and children safe by making sure your rain barrel has a sturdy top.
DON'T cook with or drink water that's been collected in a rain barrel.
DO make sure all openings on your rain barrel are screened to keep out mosquitoes.
DON'T use old barrels that formerly held something toxic.
DO make sure your rain barrel adapts for overflow (either direct excess rainwater away from the barrel or link multiple barrels together).
This video has a good summary of the 7 biggest rain barrel mistakes that people make: 
Top 7 Mistakes to Avoid when Harvesting Rain Water
And this next video shows some outside-the-box ideas when using a rain barrel to harvest rain water:
Top 7 Mistakes to Avoid when Harvesting Rain Water
How To Make A Rain Barrel
Here are some fun and easy ways to make your own rain barrel:
This is a great video that shows how to recycle rain water — rather than letting it become wastewater:
How to Build a Rain Barrel
3 Ways To Fix A Smelly Rain Barrel Water
If the water in your rain barrel gets starts to smell (or turns green), you have 3 good options:
Option #1 is to add goldfish! They keep the water very clean by eating the algae that turns it green. Keep in mind… when using goldfish as a temporary way to remove algae, don't just dump the goldfish in a stream or river — because they're invasive. Instead, give them to a child with a fish tank, or return them to the store.
Option #2 is to add barley-straw pellets. They will kill algae — but won't harm plants.
Option #3 is to pour a small amount of vinegar into the water. It should clear it up relatively quickly.
As a bonus… the goldfish and the vinegar options (separately) will also kill mosquito larvae!
Mosquito-proofing my rain barrels with feeder fish
How To Protect Your Rain Barrel In The Winter
If you get below-freezing temperatures where you live, then your safest option is to drain the rain barrel before the very first freeze of the season occurs. 
Here is a good summary of your options, based on how cold your winters are.
This video shows how to properly winterize a rain barrel:
PlantTalk: How to Winterize Your Rain Barrel
Here's a good read: Top 10 Winter Uses For Rainwater
More About Rain Barrels
Here are a few more tips to help you make the best rain barrel set-up for your space:
If you found this post helpful, it would mean the world to me if you would share with others on Pinterest: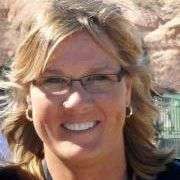 My experience with living green consists of taking baby steps (like making one big change each year as my New Year's resolution) — because I've seen too many people burn out on trying to 'Save the Planet'. I share a lot of Simple Ways To Go Green, as I find new and successful strategies that have worked for me. While I'm baby-stepping my ecofriendly habits in life, you will find me at the corner of Good News & Fun Times as publisher of The Fun Times Guide (32 fun & helpful websites).